liftbook service packages
Numerous options for seamless and smooth digitisation of your system.
liftbook free
Your digital lift-solution – keep track of controls around the clock
liftbook basic
Remote access and control overview – with just one click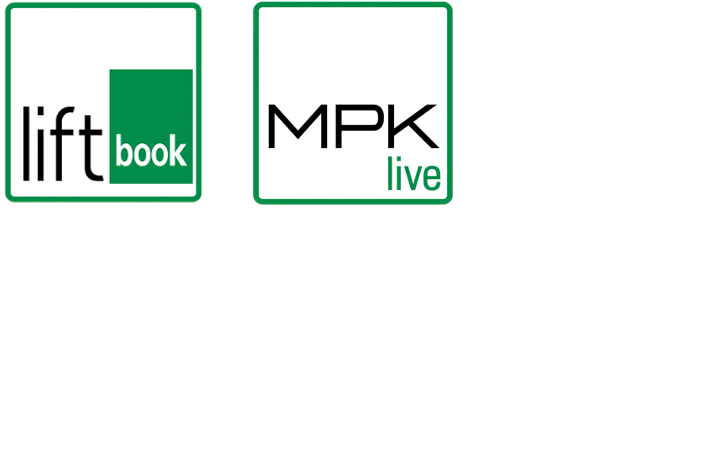 liftbook service
Lift maintenance and time-saving ticketing system
liftbook service+
API Integration into your own system and convenient apps for your customers' satisfaction
Liftbook free allows you to maintain an overview of all the controls in your lifts. Round the clock.
24/7 ACCESS TO ALL TECHNICAL DOCUMENTATION OF THE CONTROLS INCL. ARCHIVE FUNCTION
ACCESS TO ORDER STATUS & SHIPMENT STATUS
OVERVIEW OF ALL CONTROLS (CONTROL NUMBER, PROJECT NAME, CONTROL ADDRESS AND OTHER ORGANISATIONAL FEATURES)
CREATION OF FREELY SELECTABLE CONTROL GROUPS (e.g. ACCORDING TO LOCATION, END CUSTOMER, FREE CLASSIFICATION, ETC.)
MANAGEMENT AND ORGANISATION OF USER ACCESS.
In addition to a control overview the 'liftbook basic' also offers you an online remote access to the control and statistics. With just one click.
Service Level 1 plus:
ONLINE CONNECTION BETWEEN CONTROL AND LIFTBOOK
SECURED REMOTE ACCESS TO THE CONTROL (MPKLIVE)
ONLINE PROVISION OF CONTROL INFORMATION SUCH AS

EVENT MEMORY
OPERATING STATUS
CABIN POSITION
SPEED
TRAVEL AND CONTINUED DIRECTION OF TRAVEL
SAFETY CIRCUIT
OPERATING STATUS STATISTICS (AVAILABILITY)
WAITING-TIME STATISTICS
JOURNEY COUNTER
OPERATING TIME
USE INTENSITY – (ACCORDING TO STANDARDS SPECIFICATIONS)
liftbook service allows you to collect and analyse system data. In the event of error detection, the 'liftbook' communicates directly with a fitter and thus optimises the time spent on repairs.
Service Levels 1 & 2 plus:
OPERATING STATUS
CONTROL MONITORING
MONITORING AND ASSESSMENT OF CONTROL EVENT MEMORY
CREATION OF EVENT TICKETS
USER NOTIFICATION
TICKET SYSTEM WHICH ORGANISES TICKETS AND ASSIGNS TO A FITTER
OPERATOR DASHBOARD WHICH PROVIDES THE CONTRACTING PARTNER WITH ACCESS TO THE CUSTOMER (PROPERTY MANAGEMENT, OWNER, ETC.)
Can't get any smarter: liftbook service+ covers all the functions of our digital service range. From lift control via app to automated maintenance of your system.
Service Level 1 – 3 plus:
LIFTIT END USER APP

PERFECT FOR LARGE BUILDINGS SUCH AS COMPANIES AND HOTELS WITH MULTI-USERS
CONTACTLESS REMOTE LIFT CALL
APPLICATION IS IDEAL FOR LIFTS WITH BUILT-IN KOLLMORGEN CONTROL
PROVISION OF A COMPLETE USER MANAGEMENT
INSTALLATION ON ANDROID AND IOS

LIFTQR WEB APP

PERFECT FOR BUILDINGS SUCH AS DEPARTMENT STORES AND MUSEUMS WITH VISITOR
AUTHORISATION FOR CONTACT-LESS LIFT CALL VIA QR-CODE-SCAN
QR-CODE IS DISPLAYED BY THE SYSTEM ON THE DISPLAY OF THE CALL PANEL

 API-INTERFACE

WEB-PROGRAMMED INTERFACES ALLOW THE CUSTOMERS TO INTEGRATE LIFTBOOK FUNCTIONS IN THEIR SOFTWARE. Inquiries
© K-solutions 2022. All rights reserved